This year Lauren asked for a Mermaid themed birthday party but NOT an Ariel birthday party. This threw me, Miss Completely Uncrafty, into a tailspin. I searched Etsy (too complicated) and Oriental Trading Company (didn't need 50 of each mermaid thing). I finally came up with my own rather simple ideas. These are not Martha Stewart type of ideas but ones that worked for us and that Lauren thought were just grand.
First up, the girls decorated little silver treasure chests with beach themed stickers. Earlier in the week Lauren and I had painted the boxes a sparkly silver.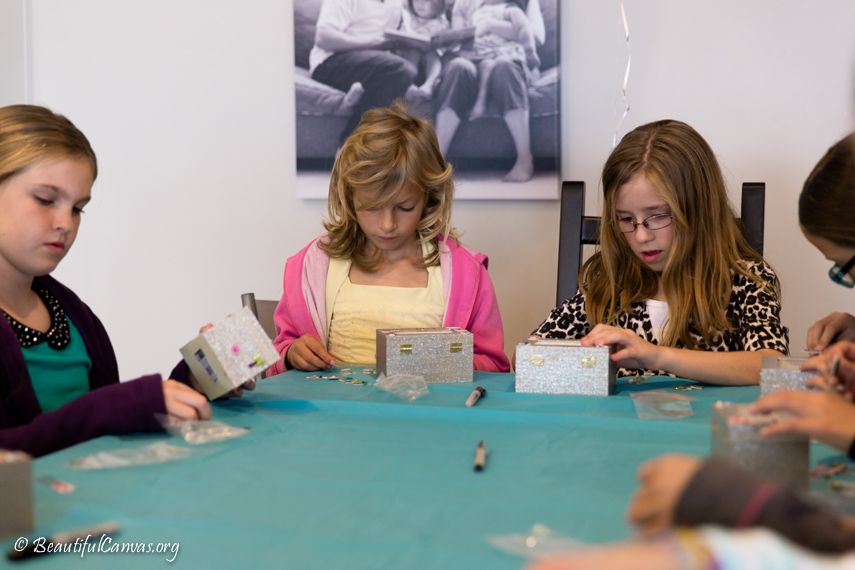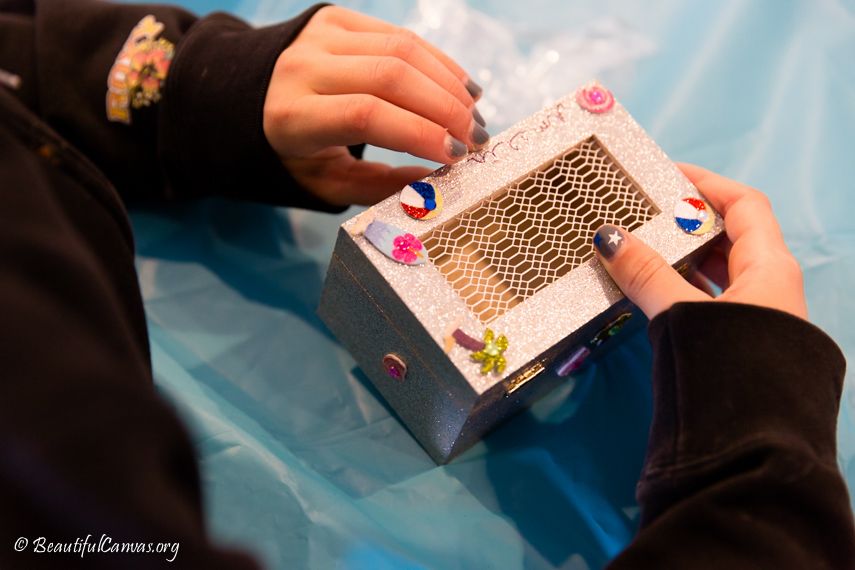 During the party the girls won items to put in their boxes–shells, colored stones, silver and gold chocolate coins, etc. Dave was the game planner and executor. The girls played limbo, musical mermaids, H20 trivia, fishing, etc. Dave stood outside behind a concrete wall and the girls hung their fishing pole over the top (it was actually a metal something-or-another with a piece of wire attached to it) and "caught" empty soda cans, old flip flops, ballet slippers and Rainbow Loom fish key chains that Lauren made. Cracked us up that a group of tween-ish girls would love fishing over a wall so much. Lots of giggles during that game!
Dave came up with the idea of celebrating Lauren's 10 years with pictures. So, I printed pictures from the time she was three weeks old to nine years old and then Lauren attached them via clothespin to the side of her old baby crib. Yes, a great idea for those old drop side cribs that were all recalled! My initial plan was to only choose photos in the Mermaid themed color scheme–blues and silvers–but that turned out to be way too difficult. Lauren wore mostly pinks and purples, not blues and silvers!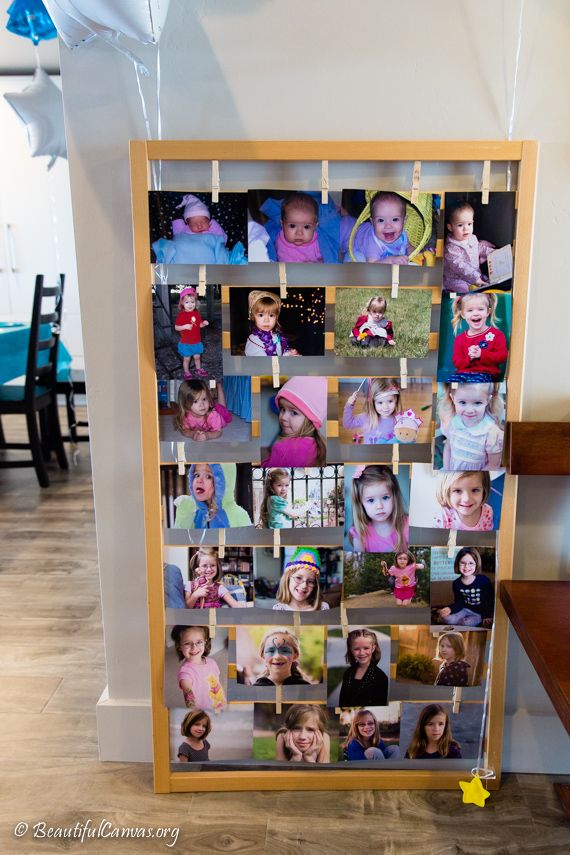 Dave and Lauren picked up a bunch of mylar star balloons from the 99 Cent store. They were a dollar each and perfectly fine quality. Totally worth a buck and especially compared to Party City prices.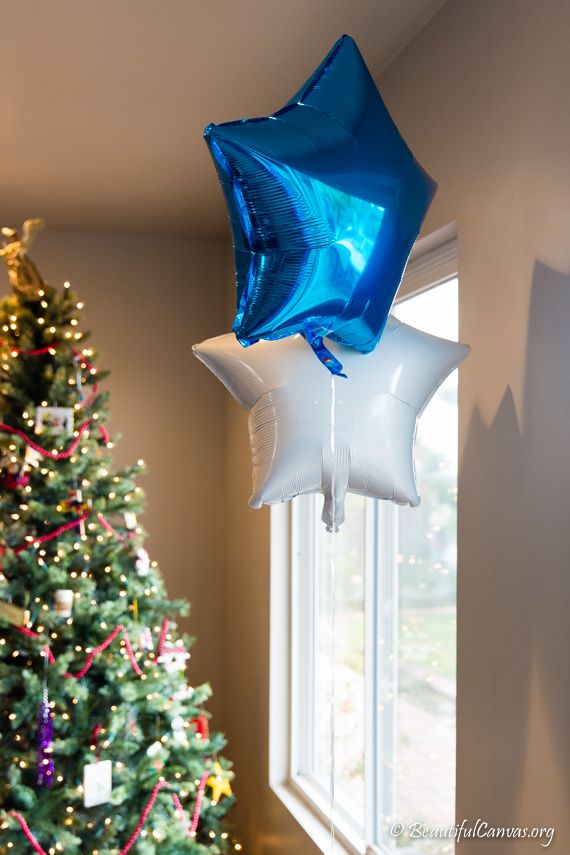 We went to a local souvenir shop and bought a mermaid figurine and a unique looking shell for cake toppers. Cold Stone Creamery created a beach/sand/water themed cake. The cake turned out cute and it was GOOD. Lauren chose chocolate cake with cookie dough ice cream. We had a Baskin Robbins ice cream cake last year and this year's was sooooooooo much better!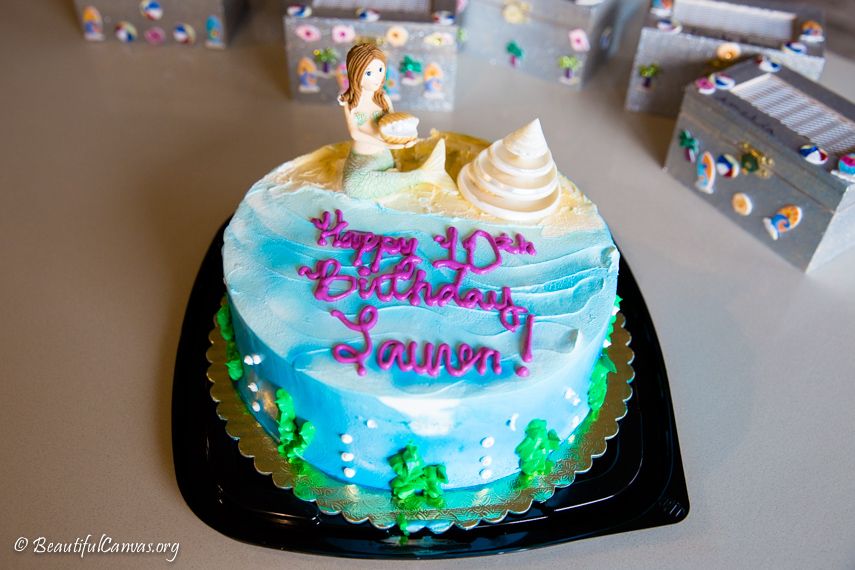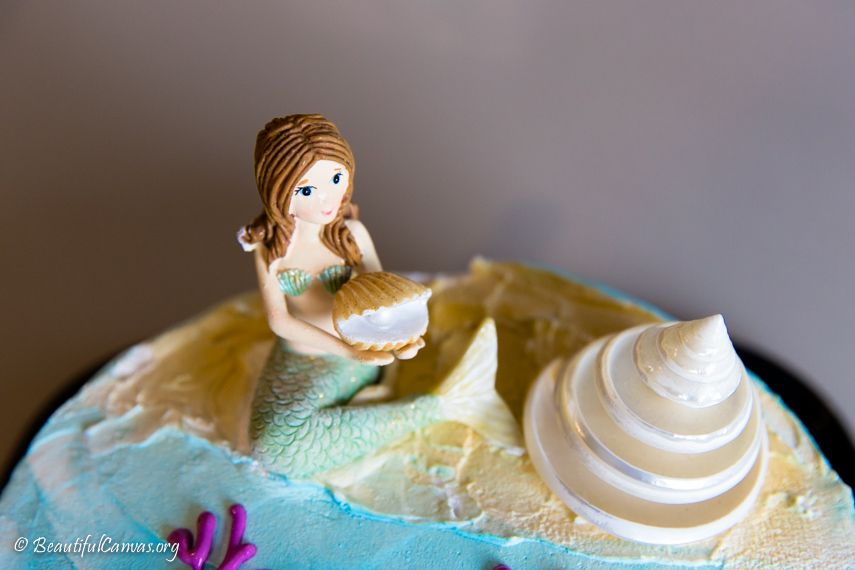 Overall I think the party was a success and all the girls seemed to have fun! This 10 year old had a great time.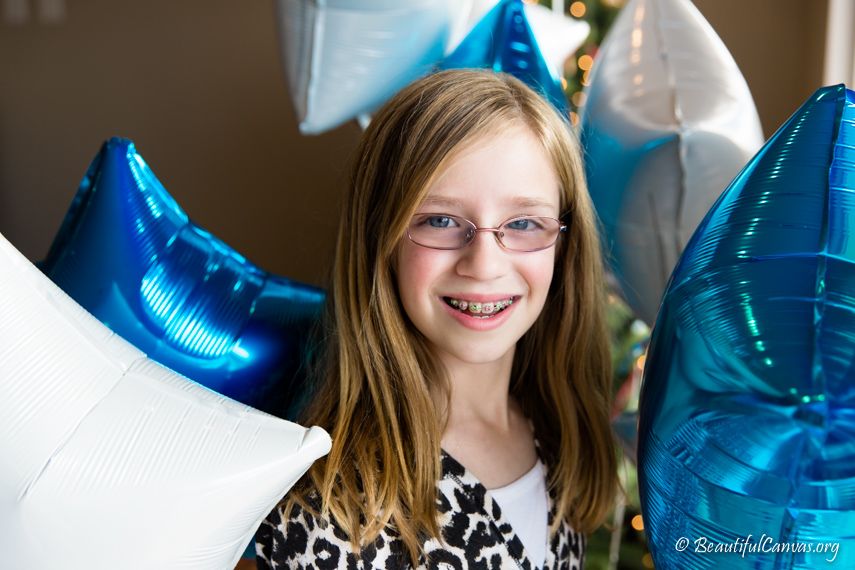 Next up…Hope's birthday in January. Which is totally going to be at one of those kid bouncy house type places!