There is so much we want to blog about but life is just totally exhausting right now. I can't remember what we have blogged about and what we haven't so sorry if I've already written the following!
Dave has been traveling for work and while we are very, very thankful for steady income, gosh, we miss him when he is gone! Hope struggled the first few weeks with the transition from Dave leaving to Dave coming back home but now runs and jumps in his arms the second he walks through the door. I really ought to video it…it's about the sweetest thing ever!
We are preparing to move this summer. Lauren was accepted into a Christian school south of us so we are hoping to move 30 minutes or so closer to the school. Lauren is soooooo excited! She says she is very much looking forward to learning about Jesus at school and three of her CYT (Christian Youth Theater) friends attend this school. Doesn't get much better than that!
Speaking of school, Hope will be going to preschool in the fall. She absolutely cannot wait to start school! Every morning when we start getting ready for the day she asks, "Are we going to preschool?" Not quite yet Hope! Almost!
We are in looking-for-a-house mode right now. We've looked at a number of houses and now have a pretty good idea of what is out there and where we would like to live. Dave looked at 27 houses in about a week and a half last time we were looking for a rental. He found the perfect place, #27!  Hopefully it won't take 27 times to find a house this time around.
This coming week is Tech Week for CYT's Wizard of Oz. Lauren is a munchkin, spook and forest animal. Tech Week is 40+ hours of rehearsals and plays. I see coffee in my future!
We found a church after several months of looking. Great sermons, great music, and great atmosphere. We are thrilled to have a church home again. We are looking forward to getting more involved once things settle down here.
We have gone through some very significant relationship challenges in the past few months that have literally left us overwhelmed and emotionally exhausted. We may write more on that later after more prayer and processing on what is wise to write about. To clarify: The issues are not between Dave and me. We are actually doing quite well!
We would greatly appreciate your prayers that Dave is able to travel less, that the girls transition into their new schools well, that God provides a home for us in His perfect timing, that Wizard of Oz is a ton of fun for the kids and that we remain sane during this season of busyness and change!
Because blog posts are so much more fun with pictures…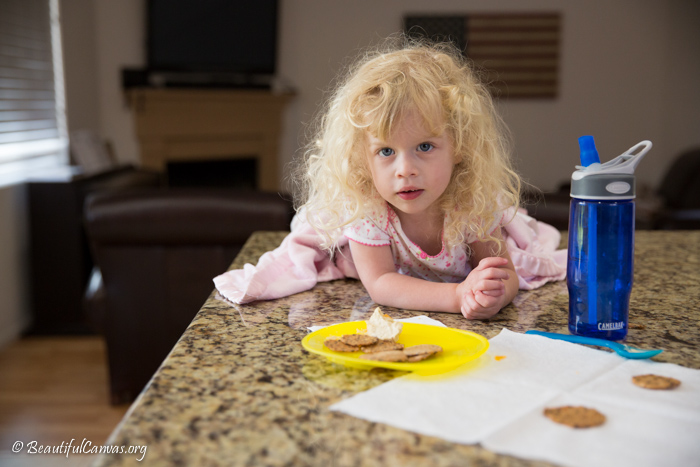 Someone was tired and barely made it through lunch time!